Visions of Mughal India: The Collection of Howard Hodgkin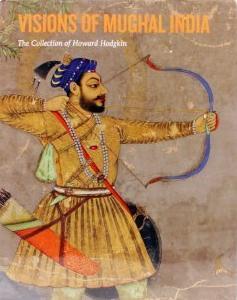 Visions of Mughal India: The Collection of Howard Hodgkin
By Andrew Topsfield, with Howard Hodgekin
ISBN 13: 978-1-85444-263-5
Pages:176
Illustrations: ~120 color
Dimensions:11" x 8 1/2"
Binding: Paperback
An esteemed art collection by one of England's most esteemed artists.
•Mughal art spanning 300 years.
•Many recent acquisitions by Hodgkin, never exhibited.
Renowned British painter and printmaker Howard Hodgkin has been acquiring Mughal art since school days. English critics have called him "one of the great aesthetes of the age." Over 110 Indian paintings and drawings from these remarkable private works that were shown in a major Ashmolean Museum exhibiton comprise this beautiful publication.
Many paintings are recent purchases never before exhibited revealing how Hodgkin has constantly refined the collection over the years. Why the artist, who is most often associated with abstraction, is drawn to Mughal art was expressed in an interview: "You need things to look at things to affect your feelings and your intelligence and your heart."
For the connoisseur and novice alike the depth and beauty of this collection provides a 'course' on the subject of Mughal art. Here are most of the main types of Indian court painting that flourished during the period (c.1550 -- 1850), including the elegant naturalistic works of the imperial Mughal court, the poetic and subtly colored paintings of the Deccani Sultanates, the boldly drawn and vibrantly colored styles of the Rajput kingdoms of Rajasthan and the Punjab Hills.
Hodgkin's own art is collected worldwide in museums as diverse as London's Tate Gallery and the Phillips Collection and Yale Center for British Art in the U.S. (Named in 2003 by Queen Elizabeth II as a 'Companion of Honor,' Hodgkin has a [Sir] before his name.) His artist's unique works hold glimpses of incandescent impressions of Turner, the emotional explosiveness of Van Gogh, the colder abstractions of Pollock and De Kooning and the late canvases of Kline.