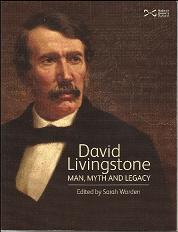 David Livingstone
Edited by Sarah Worden
National Museums Scotland
ISBN: 978 1 905267 64 4
Pages: 144
Illustrations: app. 50 color and black/white photographs
Paperback
*A Broad-based perspective on the great explorer and missionary doctor who captured the imagination of the world with his expeditions to the African continent and whose work included publicizing the horrors of the slave trade in Victorian Britain.
*Three is a U.S. connection: the journalist Henry Morton Stanley, American by adoption, went to Africa in search of Livingstone and on finding him, uttered the now immortal words "Dr Livingstone, I presume."
Missionary doctor, Scotsman David Livingstone (1813-1873) was one of the world's greatest explorers. He was celebrated for his journeys to the interior of the African continent to introduce the people to Christianity as much as to free them from slavery. His expeditions filled huge gaps in western knowledge of central and southern Africa. Livingstone discovered the spectacular 'Victoria Falls' , and was the European to cross the width of southern Africa.
Livingstone is considered from the disciplines of medicine, geography, social history, literature and museum history. Scholars from Britain, the U.S. and Zambia also consider how he has been memorialized and his significance for us now.
Sarah Worden is Curator of African Collections, Department of World Cultures, National Museums Scotland