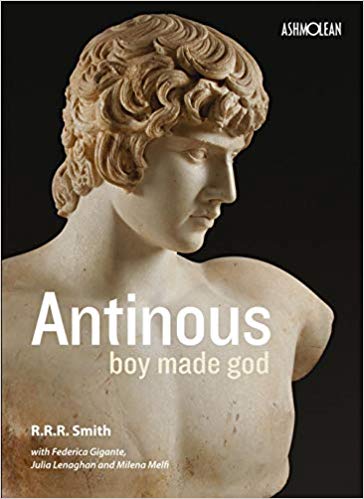 Antinous: Boy Made God
by R.R.R. Sith and M. Melfi
220 mm x 160 mm
Pages: 128
Illustrations:: 50 color, 10 b&w
Paperback
*An engaging and well illustrated story of the hero and god Antinous, and how his tragic death ensured immortality through the Roman Empire and beyond
Antinous was a Bithynian Greek youth and a favorite or lover of the Roman emperor Hadrian ] He was deified after his death, being worshiped in both the Greek East and Latin West, sometimes as a god (theos) and sometimes merely as a hero (heros).
Little is known of his life. He was born in Turkey and probably introduced to Hadrian in 123. He accompanied the emperor during his attendance of the annual Eleusinian Mysteries in Athens, and was with him when he killed the Marousian lion in Libya. In 130, as part of a flotilla going along the Nile, the boy died from mysterious circumstances.

He was worshipped by a cult throughout the Empire. Hadrian founded the city of Antinopolis after him and ran games commemorating his life. In Western culture he has appeared in the works of Oscar Wilde and Fernando Pessoa.
The publication also includes additional key portraits, coins of Antinous, medals and bronze figurines and we see why his story has lived so long beyond antiquity to the modern world.

Professor R.R.R. Smith is the Lincoln Professor of Classical Archaeology and Curator of the Ashmolean's Cast Gallery and a world expert on ancient sculpture. Dr Milena Melfi is the Assistant Curator of Cast Gallery and Lecturer/Researcher in Classical Archaeology.